THE
YELLOWAY
MOTOR COACH MUSEUM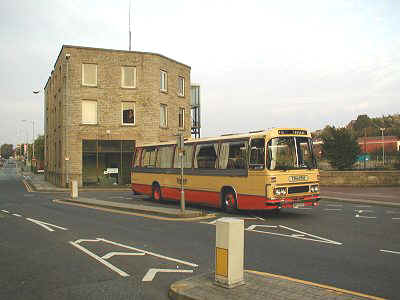 Preserving the memories of a unique motor coach company who provided a first class service and brought happiness and satisfaction to many thousands of people. The mobile museum is seen above on it's inauguration in September 2002 outside the former Yelloway offices (now a listed building) at Weir Street, Rochdale, Lancashire, England. The large coach station and vehicle maintenance garage was situated on the right.
The
YELLOWAY
MOTOR COACH MUSEUM
is dedicated to;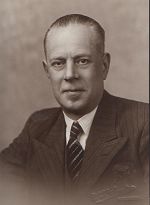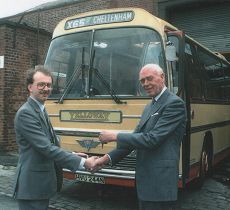 Mr. Herbert Allen M.B.E. above left and his son Mr. Hubert Allen O.B.E., J.P., above right
and all the loyal staff of the former
Holt Bros (Rochdale) Ltd. (1908-32) and Yelloway Motor Services Company Ltd., (1932-85)
who between them created one of the largest and most respected independent
motor coach companies in Great Britain.
~~~~
In the photograph above right Mr. Hubert Allen O.B.E., J.P. (right)
puts the final seal on his retirement by donating one of his vehicles
HVU244N to the Museum of Transport in Manchester.
This vehicle now stands alongside YDK590 a 1961 A.E.C. Reliance with
Harrington bodywork which Hubert had restored and donated to the museum in 1984.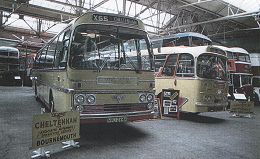 Yelloway Motor Services Ltd. sadly ceased trading as a 'family operated' business
on the 5th July 1985 when its Chairman and Managing Director
Mr. Hubert Allen O.B.E., J.P.,
who had commenced employment with the company straight from school in 1927,
reluctantly retired from his post in his 73rd year.

Hubert became Chairman and Managing Director of Yelloway Motor Services Ltd.
in 1956 after the death of his father Mr. Herbert Allen M.B.E..
who had taken the company over from
Mr. Robert Holt, director of Holt Bros. (Rochdale) Ltd., in 1932.

On his retirement in July 1985 Hubert sold the company in good faith to
Carlton P.S.V. Sales Ltd., of Rotherham, Yorkshire,
suppliers of vehicles to the coaching industry.

Three years later!, the once proud company of
Yelloway Motor Services Ltd., and its unique 86 year history,
disappeared under a cloud of dust, a victim of greed and mismanagement.
The late Hubert Allen O.B.E. JP. (1912-1994) was not only a gentleman but one of the last survivors from an era when a successful business was based primarily on care for people rather than an unhealthy blinkered obsession with the final figure on a balance-sheet. Yelloway Motor Services Ltd. reflected the personality of its Chairman and Managing Director; all staff felt that they were vitally important to the company and in turn expressed their pride in the company's reputation in their standard of service to their customers. Because of this bond between management and staff the Yelloway company operated as the 'Epitome of Excellence'. New management took the company over on Hubert's retirement but sadly they were not in the same mould. Soon the company's proud reputation sunk beneath the shame of a very tarnished image indeed.
[ About the museum and how it all started on the next page >>> ]