About the establishment of the
YellowaY Motor Coach Museum
I was born in July 1942 and I suppose that my initial interest in the Yelloway Motor Services Company Ltd started in the Summer of 1947.

My father Arthur had recently been de-mobbed from the Royal Navy after serving throughout the war years and to celebrate the return to peacetime, just like many thousands more, my mum and dad decided to take a weeks holiday in Torquay. My mum and dad just could not wait to return to that paradise called 'The English Riviera' where they had spent so many happy times before hostilities started.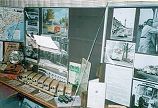 My mum always used to say, "There is only one way to travel down to Devon and that is by Yelloway" so off she went and booked our tickets at 'Littlewood's Travel Agents' on Irlams o'th Height in Salford. I remember the day we set off for the L.M.S. coach station at East Street Manchester. A taxi arrived to pick us all up at our house in Salford about 5 30am so that we could be first in the queue for the front seat in the coach. When we arrived the place was deserted but by 7am it was buzzing with people coming in from all directions to join the queue which by now was snaking and about 200 yards long! Next began the arrival of the coaches, the first 10 or so being in the stunning orange and cream livery of "Yelloway". I remember distinctly to this day the huge cheer that went up from the long queue of people when these coaches first arrived, ladies were clapping and the gentlemen threw or waved their hats in the air. Courteous drivers in their immaculate uniforms and snow white long coats attentively ushered their passengers into the coach and then carefully loaded in their luggage before setting off on the 14 hour journey to paradise.

The whole holiday experience was so enjoyable (especially the coach journey on which there was always some passengers ready to start a sing along) that we were to repeat it again every year for the following 20 years! even travelling by Yelloway for our honeymoon in 1966. By 1967 I had bought my own car and from then on travelling long distance by coach became quite rare although I did travel several times by Yelloway on day trips to Blackpool and to away football matches.

Each time that I went to Torquay with Yelloway for our annual holiday I always promised myself that someday I would retire there when the time arose. In 1993 my wife Sue and I sold our home in Timperley, Cheshire and we bought a small cottage in the village of Churston, Torbay. The first week was spent unpacking all the boxes and tea chests that we had brought with us including some that had been stored and unopened in the attic for many years. With our new home only being half the size of our previous home we had to dispose of quite a lot of goods from the boxes so we decided to have four categories in which to dispose of the goods-, 1. family and friends, 2. charity shops, 3. car boot, 4. local refuse tip.

Upon opening one large box that had been stored in the attic for many years my first reaction was "the local tip". It was full to bursting with old Yelloway coach timetables, brochures and artefact that had been collected by my family and myself each time that we had travelled by Yelloway. The oldest brochure in the box was dated 1914 which my Grandparents had saved.
I did not, at that time, think they were of any further interest to me so I loaded them into the car ready for their journey to the tip. Whilst queuing up to get onto the tip I took a handful of brochures out of the box to read whilst I passed the time away and I got really absorbed in them. They were so nostalgic and they reminded me of the wonderful holidays that Yelloway provided for us. They also reminded me that Yelloway were really the main reason why I eventually came to live in Torbay.

I decided to bring the box of nostalgia back home and create something interesting with it as a hobby, perhaps eventually being able to exhibit it somewhere as an interest to bus and coach enthusiasts. Over the weeks I compiled a little history of my journies with Yelloway which included scrap-book accounts of my parents and grandparents association with Yelloway which they had stored in the box of nostalgia and I eventually had quite a nice little display in the garden shed. Admiring it one day and wanting to add to the collection it suddenly hit me that I had not seen a Yelloway coach for many years and I wondered if the company were still operating.

I wrote letters to the postbag pages of the Rochdale Observer and the Manchester Evening News to ask readers if they had any information regarding the Yelloway Motor Services Company and the response I got was absolutely tremendous. Telephone calls came flooding in and mail started to arrive by the sack full!. People, especially former employees of Yelloway, had nothing but praise for that once proud company from Rochdale that gave so many people so much pleasure but many were really grieved by the way the company had gone out of existence none more so than Mr. Hubert Allen O.B.E., J.P. the former Yelloway Managing Director who telephoned me to ask why I was interested in his former company. I explained to him about my association with Yelloway, about my little collection of memorabilia which I had on display in the garden shed and my wanting to create a small museum and history in which to remember Yelloway.

Hubert was most interested and pleased that his company was being remembered down in Torquay Devon. He invited me to his home in Bamford, Rochdale urgently! to discuss matters.

The following day I left Devon for Rochdale to meet Hubert. He welcomed me into his home and for the following 9 hours he reminisced about his beloved coach company and his dedicated staff. He remembered all their names and their positions in his company from way back in 1927 when he started at Yelloway as office boy straight from school. He told me many more things including the desecration of his company which resulted with tears flowing down his cheeks.

After what I had heard from Hubert during the 9 hours I was with him I promised him that I would one day, in the not too distant future, have a quality museum up and running in which to preserve the wonderful Yelloway memories. On my departure he insisted that I should have his copy of 'The Yellow Road' his prized book on the history of Yelloway and he wished me well and thanked me, again with tears streaming down his face. One week later Hubert passed away aged 82 years. A true gentleman.
[ <<< Back ] [ Next Page >>> ]