Yelloway Motor Services Ltd.

Decline and demise
In 1961 Yelloway acquired the excursion licences of Turner Brothers (Todmorden) Ltd, and in 1964 the excursion licences of Holt& Sons, of Whitworth were acquired. No vehicles were involved in either case and both operators continued in the coaching business. Kershaws Luxury Tours of Rochdale was acquired in 1967 and operated as a subsidiary until 1971, when it was merged with Yelloway. The Creams subsidiary had been merged into the parent company in 1970. In 1968 the associated businesses of Makinson (Manchester) Ltd., and North Manchester Motor Coaches Ltd., were acquired. North Manchester held a licence for a Middleton and North Manchester express service to North Wales and this was transferred to Yelloway for inclusion in the Fylde Coast Pool. Both companies were operated as subsidiaries for a time but they were finally merged into the Yelloway fleet in 1973 and 1975 respectively.
National Travel made an approach to purchase the company in 1975, but yet again the company remained independent. In 1976 an agreement was formulated between National Travel and Yelloway whereby the latter relinquished its London express routes and in return National Travel's interests in the Fylde Coast Pool were handed over to Yelloway, which became the sole operator on the routes. A number of joint operations to Devon were also relinquished in favour of Yelloway. Other services passed from Yelloway to National Travel and this helped to concentrate the Yelloway operations into distinct areas. This rationalisation helped to maintain the profitability of Yelloway in the face of falling passenger numbers due to cheap foreign holidays and the continued rise of the private motorcar.
In 1980, now that production of the AEC Reliance had ceased, Yelloway were forced to find alternative chassis. A number of Leyland Leopard chassis were purchased over the next two years, but experiments with demonstration vehicles continued in an effort to find a new standard coach for the eighties. In 1982 two of the new Leyland Tiger models were purchased.
In January 1984, following a revision by National Express, Yelloway revised its services to the West Country. As a result of discussions it was decided to use a block of numbers in the 876-899 series to try to bring some sort of standardisation to route numbering. Routes were allocated service numbers as below;
841
Rochdale-Oldham-Manchester-Hanley-Cheltenham-Swindon-Southampton-
Bournemouth-Poole
jointly with National Express
845
Rochdale-Oldham-Manchester-Hanley-Newport-Cardiff-Swansea
jointly with National Express
877
Blackburn-Manchester-Cambridge-Clacton-on-Sea
jointly with Premier Travel
878
Blackpool-Manchester-Cambridge-Clacton-on-Sea
jointly with Premier Travel
883
Rochdale-Oldham-Manchester-Hanley-Bristol-Plymouth
884
Rochdale-Oldham-Manchester-Hanley-Bristol-Exeter-Torquay-Paignton
885
Rochdale-Bolton-Manchester-Hanley-Bristol-Bournemouth
886
Rochdale-Oldham-Manchester-Hanley-Bristol-Southampton
890
Burnley-Bolton-Bristol-Exeter-Torquay-Paignton
Services 883-886 gave a two-hour frequency between Rochdale and Bristol. Services 885 and 886 had timings in common with certain National Express services between Bristol and the south coast termini and formed part of the frequency of two hours offered on the National Express services 785 and 786. Service 730 between Rochdale and Plymouth via Manchester, Birmingham and Bristol was withdrawn.
On the 5th July 1985,
following the retirement of
Managing Director Mr. Hubert Allen OBE, JP,
(who had been with the company for nearly 58 years)

Yelloway was sold to Carlton PSV Sales Ltd,
(the UK agents for Neoplan) of Rotherham, Yorkshire.

Sadly this marked the beginning of the
decline and final demise of the company.
---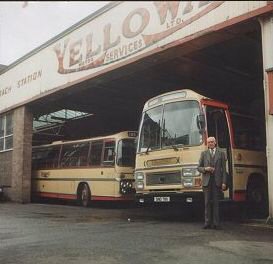 Mr Hubert Allen O.B.E., J.P. on his day of retirement, 5th July 1985.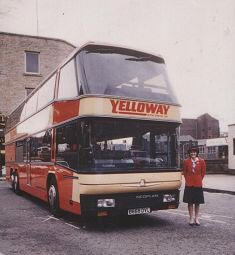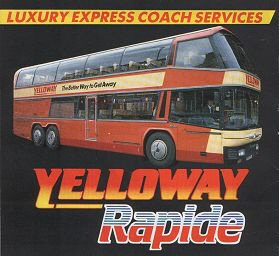 Above; The shape of things to come, or so Hubert thought!
Below right; 12 months later!!
In October 1986, following de-regulation, Yelloway registered several stage carriage services in the Greater Manchester area and won contracts from the PTE. As a result an assortment of ageing second-hand double-deckers joined the fleet.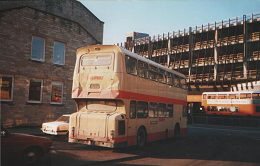 The maintenance of vehicles and pride in the Yelloway name was now beginning to deteriorate fast as is shown by the double deck bus to the right.
In 1987, ATL Holdings, the parent company of Carlton PSV Sales, purchased National Travel (East), which was to have a detrimental effect on the remaining Yelloway routes. By now the services run jointly with Premier Travel were no longer operating and National Express services had replaced them. Instead, Yelloway was contracted to run two journeys a day on the Burnley to Harwich services Nos. 351 and 352.

Most of the remaining coach work undertaken by Yelloway at this time was on contract to National Express and this was transferred to the newly acquired company along with most of the coach fleet. The last remaining vestige of the Yelloway express network was the Blackpool route through Oldham and Rochdale areas, but by late 1988 this too had gone.
In return another motley collection of second-hand vehicles came to Yelloway with which to operate the stage carriage services. By late 1988 Yelloway Motor Services had been reduced to a run down local service operator.

Eventually maintenance problems with the ageing fleet caused the Company to suffer a series of prohibitions on its vehicles. Greater Manchester PTE cancelled contracts on several services because of poor performance. West Yorkshire PTE also cancelled contracts for the same reason and, on the 24th November 1988, the Company was placed under the control of Crosville Motor Services, which had just been purchased by ATL Holdings, along with the remaining contract work.

The Weir Street depot was closed and sold for redevelopment and Yelloway Motor Services passed into transport history, a victim of de-regulation greed and mismanagement in little under three years, despite a long and illustrious history. Most of the remaining Yelloway fleet went for scrap, apart from four new Metroriders, which were transferred to Crosville. Sadly Crosville Motor Services was to tread the same path to oblivion shortly afterwards.